Luxurious accommodation in Naxos town
Accommodation
Nissaki Beach Hotel, located in the sandy beach of Saint George near the Town of Naxos Island, features a plethora of services and amenities and providing excellent accommodation.
The renovated boutique hotel in Naxos Island has spacious junior suites, one bedroom suite, superior suites with pool or sea view, standard and superior double rooms. All are elegantly decorated, with large windows overlooking the surrounding areas, beautiful bathrooms, state-of-the-art equipment, comfortable verandas or balconies, modern furniture and natural light, constituting the ideal choice of accommodation in Naxos town.
Nissaki Beach Hotel, featuring spacious rooms in Naxos and the organized beach of Saint George, is a perfect destination for couples and friends. Its standard and superior pool view rooms can accommodate up to 2 or 3 people, offer a spacious bedroom, private bathroom and a beautiful balcony and are fully air conditioned. White and earthy tones prevail to create an atmosphere of pure Cycladic serenity. The most comfortable rooms in Naxos belong to the Nissaki Beach Hotel and surely promise an unforgettable summer vacation!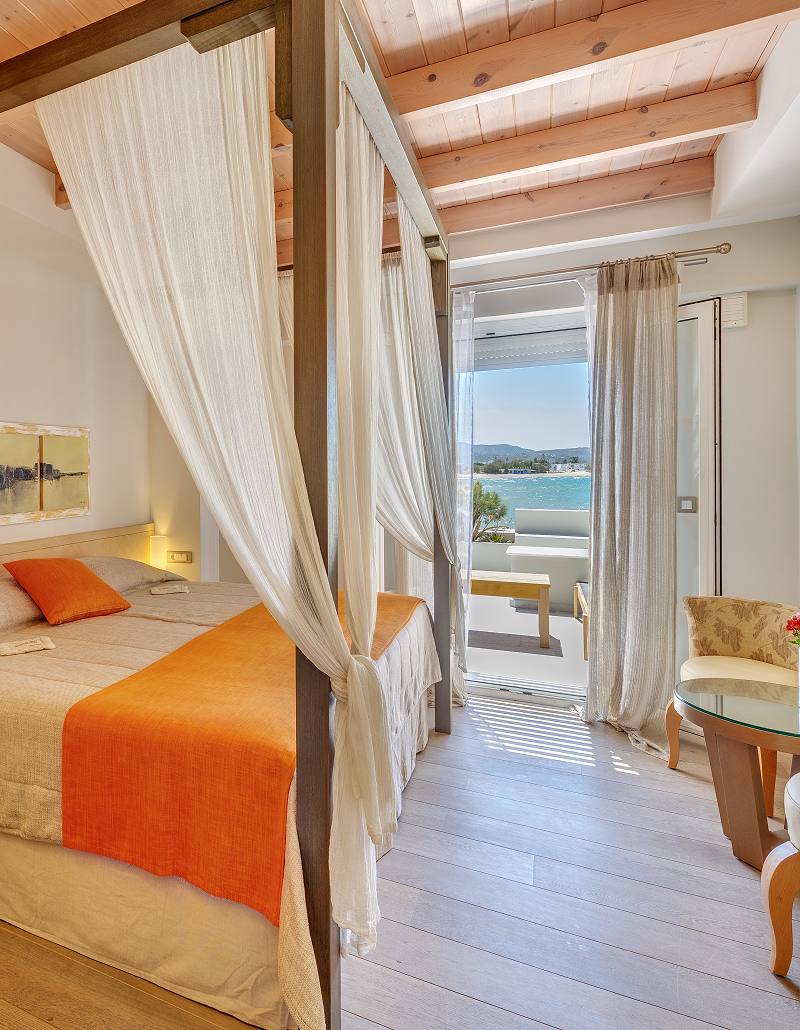 Dreamy Vacation
in Naxos Greece
Luxury suites in Naxos
Greece is undoubtedly the ideal holiday destination for the summer and Naxos Island is amongst the most popular ones, attracting thousands of visitors every year. The hotel Nissaki Beach, located on the seaside of Saint George and at a close distance from the main town, is an establishment of modern island architecture, featuring some of the most striking, yet minimalistic, sea view rooms and suites in Naxos. The suites of Nissaki Beach Hotel on Naxos Island, Greece are divided into 4 categories, varying on size and purpose: Junior with Sea View, Pool View, Sea View and One Bedroom Suites. They all have Coco-mat sleep system for perfect sleep and utmost comfort, an ensuite sitting area, a luxurious bathroom, a spacious and furnished veranda with sea or pool view, wide plasma TV, large double glass doors and exclusive amenities. These amazing suites in Naxos will be your favorite summer getaway!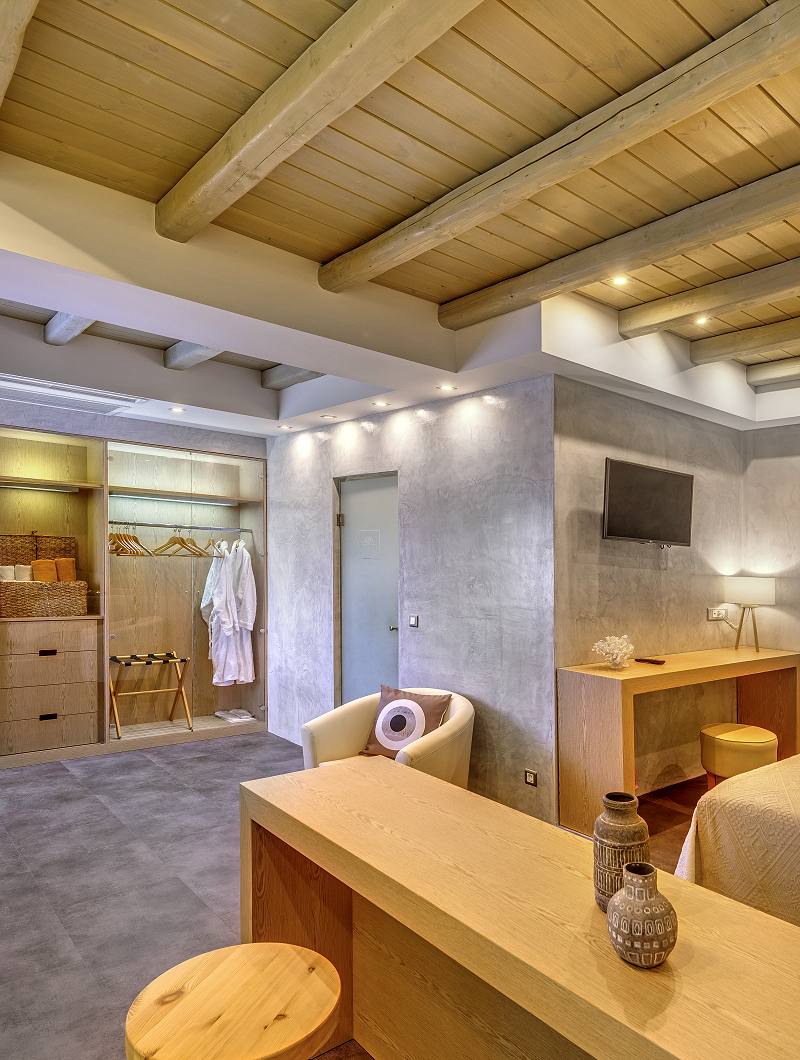 Dreamy Sea View Suites
in Naxos Greece
Sea View Suites Suites
There is probably no couple in the world that hasn't dreamed of having their wedding or spending their honeymoon on a Cycladic island. The romantic sunsets, the long walks on the sandy beaches, the savorous cuisine and the warm hospitality met in the Greek islands create the ideal setting for the beginning of the couples' common life.
The sea view suites suites of the stylish Nissaki Beach Hotel on Naxos Island are welcoming newlyweds with their exclusive services and unique ambiance. Extremely spacious with stunning views and meticulous design, they guarantee absolute privacy and sheer elegance.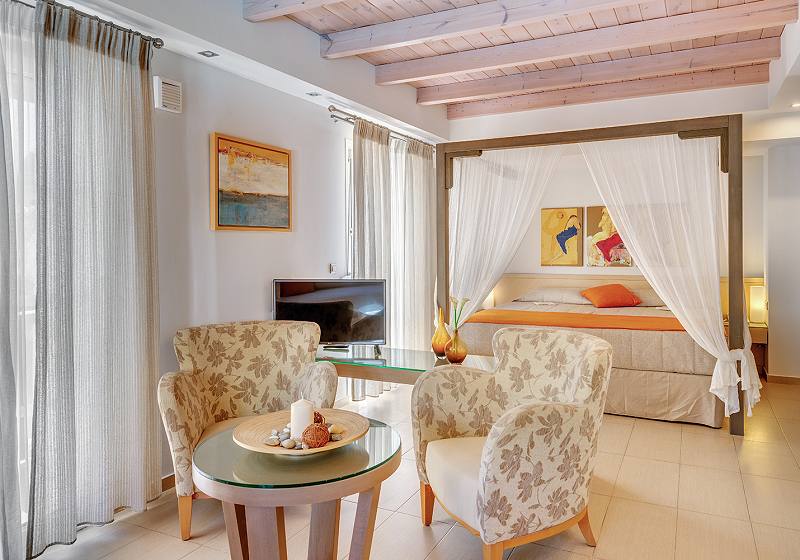 Rooms & Suites amenities include
Air-conditioning
Wired internet access (VDSL)
Wireless internet access (Wi-Fi VDSL)
Satellite TV (LCD)
DVD Player
King Size beds (2m x 2m)
Twin beds (2m x 1m)
Coco-mat sleep system (in suites)
Bathrobe / sleepers
Direct dial up
Telephone in the bathroom
Fridge
Kettle
Coffee and tea MAKER
Iron & ironing board
Safe deposit box
Luxurious bathrooms
Breakfast in the room
Hair dryer
Bathrobe & sleepers
Toiletries
Laptop on request
Balcony or veranda
Sea view or pool view rooms
24-hour room service
Room Types
Standard double rooms, Superior double rooms, Junior sea view suites, Pool view suites, Sea view suites, One bedroom suites are available. Please click on images below to find out which one suits your needs.